PREP – Prevention and Relationship Enhancement Programme
Marriage is like a garden, if we sit back and expect it to take care of itself, it will be in ruin. It needs intentional care and cultivation. When weeds grow, they must be pulled up from the root immediately. If we don't pull up the weeds by the root they will continue to grow back, eventually overtaking and killing the garden. Maintaining a good marriage needs time and energy. The best time to start marriage preparation is when you and your partner have started to think about commitment in your relationship. Whether you are dating, soon-to-wed, or just married, such marriage programme will help you and your partner to understand marriage-related issues and be mentally and emotionally prepared for a life journey together as husband and wife.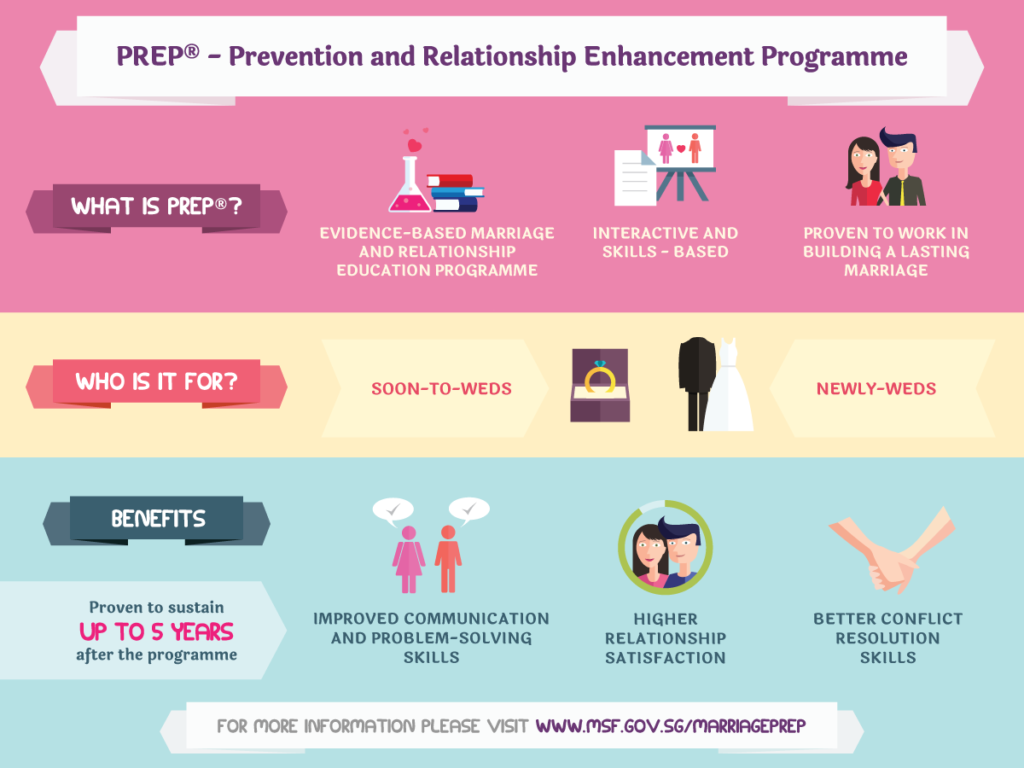 This 12-hour programme is based on the "Prevention and Relationship Enhancement Programme" (PREP) and is formed by 30 years of on-going research in the field of relationship health, marital success and distress. Research has shown that the PREP programme reduces the likelihood of pre-marital break-up and post -marital divorce. The group format workshop will be conducted over 2 days, providing a more in-depth coverage of a range of topics including communication, conflict resolution and problem-solving, etc. The workshop offers more opportunities for couples to reflect on their relationship and learn skills to enrich their marriage.
Date: 17 & 24 November 2018 (Saturday) (Closing Date for registration: 28 October 2018)
Venue: Multi-Purpose Hall @ Lifepoint Chinatown. 133 New Bridge Road, #04-08, Chinatown Point, Singapore 059413
Fees: $350 Rebate: $140 (upon completion)
**Learning materials and tea break provided.
Format: 2 full days. 930am – 530pm workshop.
Couple sharing and exercises & small group discussion.
For more information / enquiries, please complete the application form and email prep@shenghong.org.sg or call 62895022.

we need help Volunteer
The efforts and time contributed by one person can make a significant difference in the lives of another person.
Volunteer Now