May Online Talk Series 五月网上讲座系列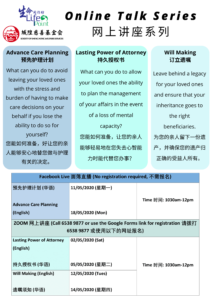 Bored at home? Catch our online talks on topics like Advance Care Planning, Lasting Power of Attorney and Will Making for free!
Pre-registration is only required for talks on Zoom using the links provided below or you may call us at 6538 9877 to register. Please be reminded that an email ID would be required for Zoom talks. Thank you!
我们即将推出一系列免费的网上讲座。话题包括:预先护理计划,持久授权书以及遗嘱须知。
只有在Zoom平台举办的讲座需要预先报名。您可拨打我们的热线65389877报名或者使用一些的链接报名。大家请注意,若想参与使用Zoom平台举办的讲座,您需要提供您的电邮。谢谢!
Will Making (English) 12/05/2020:

we need help Volunteer
The efforts and time contributed by one person can make a significant difference in the lives of another person.
Volunteer Now