NSA Virtual Roadshow 全国乐龄学苑线上路演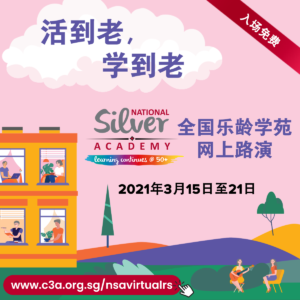 Join C3A at the National Silver Academy (NSA) Virtual Roadshow, happening from 15 to 21 March 2021. Themed "Live to Learn, Learn to Live", the event will showcase an array of learning and volunteering opportunities, online talks and videos as well as interactive games, specially curated for seniors aged 50 and above!
在线探索专为50岁或以上的乐龄人士而设的各种终身学习课程和志愿服务机会!
More details can be found here 您可到以下网址查询更多详情:

we need help Volunteer
The efforts and time contributed by one person can make a significant difference in the lives of another person.
Volunteer Now