ACP Public Talk Schedule
Call 6538 9877 today to start your Advance Care Planning journey!
For seniors with mobility issues, we offer the option of home visits to get the above documents done at an additional cost. Click here for more information.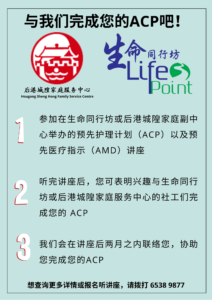 有兴趣利用我们的平台完成以上文件必须先听有关讲座。讲座时间表和报名信息可通过此链接获得。
若您行动不便,生命同行坊能够提供家访的服务,替您完成以上的文件。更多详情在此链接。
Relevant resources 有关资源:
https://www.aic.sg/care-services/advance-care-planning
https://www.moh.gov.sg/policies-and-legislation/advance-medical-directive

we need help Volunteer
The efforts and time contributed by one person can make a significant difference in the lives of another person.
Volunteer Now