Accolades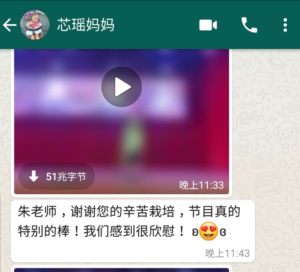 Parent of Guo Xinyao Elizabeth
Parent of Ling Xun Jie Julian
Parent of Tan Sheng Hao Enzo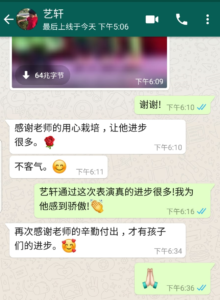 Parent of Huang Yixuan
Su Wai's Dad
Ivan & Isaac's Mum
Jin Xun & Lebelle 's Mum
Dear Ms Charlene,
We thank you for taking such wonderful care of the children, and providing them with a lovely environment to grow healthily and learn happily.
We are encouraged that Nicholas is acquiring knowledge and having lots of fun at the same time. A holistic approach to pre-school education with balanced emphasis on IQ, EQ and character development is on full display at MacPherson Sheng Hong.
A cheerful and optimistic individual is a dynamic and industrious contributor.
Appreciate your good efforts. Thanks again.
Best regards,
Darric Teo
(Father of Nicholas Teo)
22 August, 2019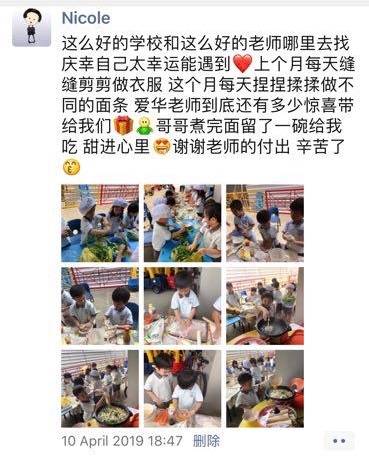 Parent of Ivan Li Mingze & Li Chengyu
Parent of Ivan Li Mingze & Li Chengyu
Dear Ms Wendy and teachers of Sheng Hong Childcare,
I would like to share with you how my girl's (Gisselle Liu K2A) progression since she joined your childcare. I have put her under the care of the school since she was in pre-nursery. As a working mother, I have tried to coach her at home in terms of academic. Time spent with her at home was so stressful as my expectation of her is way beyond that of a child, and it doesn't help as an educator myself. So, I decided at a point that I just want her to be happy and enjoy her time in school and build on her character instead.
Can I thank you, teachers, for doing such a great job in ensuring my girl enjoyed her time in school. There were times when I enticed her to go out with me instead of going to school, but she chose to go to school instead. Thank you!
And Ms Wendy, for leading the team to create such an inviting environment and ensuring the teachers deliver their care and love to the children.
As Gisselle embark her new journey next year, I will ensure the goodness of Sheng Hong ChildCare is being spread to others who need a happy environment for their children. Thank you to all, including the aunties and uncles who helped in one way or another.
Attached a picture and video of Gisselle doing work on her own with guidance, and all these are not possible without the guidance of the teachers in school
This is an assurance to you and your team. Thank you once again.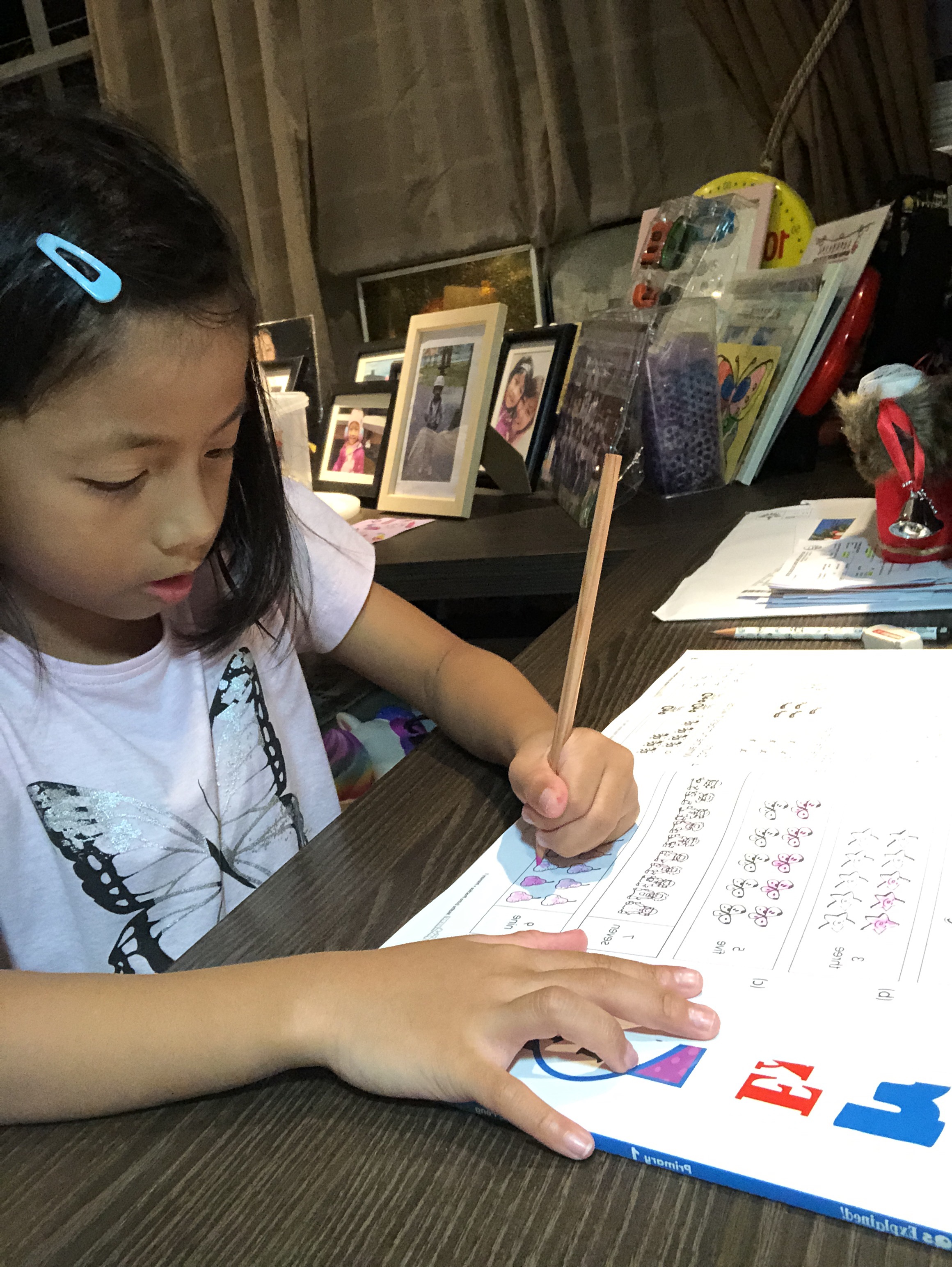 Parent of Gisselle Liu
Annual Survey – Feedback Form (4 September 2018)
(Accolades & Words of Encouragement from the Parents)
Toddler Class
My child likes the centre and its staff a lot!
Chen Bilian Laoshi is a very responsible teacher and she really puts in a lot of effort in all the things she does, especially when handling the students.
The auntie and Chen Bilian Laoshi are very nice and kind to Lutheus.
My daughter and son love the school and the teachers/caregivers.
Great morning exercise, which is positive for children. Excursions to expose my child to the world around him.
The open-space/non-air conditioned and air-con classrooms enable students to play freely and socialise with other students, learn social norms/behaviours, indirectly build up immune system.
The teachers and caregivers are patient and caring.
Dedicated teachers with good facilities.
We can sense from the excursions that the teachers put the kids as priority before themselves. This is really reassuring to us as parents leaving our child in your care!
Caring teachers and friendly admin staff create a pleasant experience for us.
It certainly takes a big heart to help shape little minds. Do continue to inspire and nurture students with love and patience! 继续努力!
非常棒的学校和老师。我们爱您们!Thank you.
老师们对孩子很悉心照顾,孩子出现问题会立刻告知。谢谢学校和老师们对孩子的关怀,对以信任。
Playgroup Class
Kuddos to MacPherson Sheng Hong Childcare team!
Thank you to all the teachers and assistants who have helped to make the school a more conducive learning environment.
A parent is most comforted when the kid enjoys her day where the parent sent her to. I am glad Yong Yan loves school, her teachers and her friends.
It takes a big heart to be in this profession – childcare teaching. For all the hard work, you do make a difference to the children and parents. Thank you all, for your dedication and love for our kids.
The teachers, Ms. Vanie, Gao Laoshi and Auntie Yen, have been great! Isaac speaks about them often, and thanks for the patience in toilet training!
Both teachers and aunties are extremely resourceful and adaptable towards children's learning and daily needs. We are immensely appreciative for their great patience, understanding and care given to Gregory, knowing he is not an easy child to manage.
The school has great teachers and friendly admin staff. It is a very pleasant experience as a parent.
Teachers are patient and attentive. Aunties are also doing a great job taking care of the kids.
I am always amazed by preschool teachers. It is not an easy role, requires lots of attention, dedication and love for children. Thank you for being there for our kids whole year round. You all have been fantastic.
I could tell my girl likes her teachers and aunties very much.
There was a period when my daughter seems to be sad at school. The teacher informed me about that so that we could find solution to what was happening to my daughter. It was a nice gesture!
The centre provides adequate amount of space for the kids to roam around. Being free gives young kids opportunity to explore and grow.
Excellent face recognition by the staff whenever the parent/caregiver arrives. Staff went through a round of confirmation for new faces (e.g. when my father came to pick, verification was conducted).
Very impressed with the temperature taking device. Children seems to enjoy the food and my girl is growing well.
The teachers and assistants are very caring and friendly. The school space is quite big and good for my children. I personally like the school compound.
The school has taught my kids to be independent.
Big space, healthy menu, martial arts (for older kids though), good staff to kids ratio.
The school provides many opportunities for excursions, which is good for busy parents who do not have time to do so for their kids.
Teachers are so kind to my child.
Teachers are open to communication and are very flexible and understanding towards behaviours. They very readily work together with parents to correct and adapt children to the school.
Large airy compound, friendly and family-like environment, varied play activities for the kids.
Activities and school setting (ie: queuing, self-help during meals, physical activities) build positive attitude towards social settings, responsibility, independence. Helps my child prepare for Primary School.
Dedicated teachers and well-maintained facilities.
Spacious classroom and space.
环境整洁,老师具有亲和力。
健康,卫生,安全。
孩子很喜欢学校和老师。祝中心越办越好!老师和Aunty健康快乐!跟孩子们度过愉快的每一天!
老师,您辛苦了!孩子进步很大,在老师精心的领导下,孩子德、智、体全面发展更上一层楼!加油!
Nursery
I would like to thank the school for taking care of my child. She has learned a lot in school and never dislikes the school and teachers. Keep it up.
Thanks to the teachers for showering my children with love and care. My son comes home everyday with a smile on his face. I can tell he is enjoying his school life!
Keep up the good work!
Thank you for all the care and attention showered on our children.
Keep up the good work! I am really pleased with this school as a whole.
I hope that you will do better and better.
We are happy that our child is enjoying preschool. It's not easy to send your first child to school, but seeing what a ball he is having makes it a breeze. And we know we have you all to thank for that. The activities and the lesson that you plan, the room you decorate, the friendships you help foster – It's all incredible, and it's helping our child and us! Thank you for your contribution and love towards all the children at school!
I am happy to place my child in school. I am grateful to all the staff as my child loves this centre. The efforts staff put in are visible to parents. Thank you for the patience and kindness.
I do appreciate the monthly newsletters prepared by the teachers. It helps me to have a better understanding of my children's learning progress in school.
The teachers are very friendly and understanding.
Big space to run around for activities. Teachers quite observant about students. Very approachable staff.
My son has improved a lot since he started studying at MacPherson Sheng Hong Childcare Centre.
I like the school environment, not 100% air-conditioned. Thus, children are not confined in aircon environment the whole day.
The teachers and assistants are all very helpful and friendly. I have put 2 children there and if one is not coming, the teacher will ask straight away. Admin stuffs are well managed and taken care of, very neat.
Lessons in class are well planned. I can see kids following instructions and rules.
中心的基础设施很好,环境好,活动多,老师的课室布置很用心。老师们都很热情,有礼貌。
孩子们喜欢老师,学校。
非常好。
卫生,干净,整洁。
非常大,老师非常用心。已推荐。
谢谢教过显主的每一位老师,陈老师,Ms. Vanie,黄老师,Ms. Win和朱老师。每位老师都很棒!有爱心,耐心!祝学校越办越好!祝老师们工作愉快!孩子们快乐成长!
希望学校越办越好。
非常棒的学校和老师。我的孩子每天都期待去学校。谢谢。
学校老师与员工态度友好。
K1
Well done. Keep it up. Thanks to all of you for the interest and care for Meixi.
Thank you for taking great care of Ketong!
Thank you to Ms. Charlene and Li Laoshi for emphasizing on knowledge and ethics while ensuring a fun environment.
Keep working hard and be better.
The teachers have done well and put their hearts to care for and teach the children. Keep it up!
Ai Hua Lao Shi is always in touch with parents in Whatsapp and always update us regularly with photos. Good job!!!
I like that the school emphasizes 50% on English and 50% on Chinese. I like that the students are disciplined.
Good learning experiences by providing a variety of hands-on and follow-up activities.
MSHCC has done a good job in developing our child holistically in terms of academics and play.
中心教小孩许多常识,这是我非常喜欢的。希望能有更多的手工活动,类似烘培,做菜,布置教室用的道具等等。非常有趣。
整体上全部很好。
创造机会让孩子根据个人兴趣进行探索。中心员工及老师是可信赖的,有能力的。
我觉得中心的环境和学习氛围非常好。非常喜欢中心的老师以及工作人员的热情和态度。
继续努力,教的很好。
我的两个小孩都在城隍接受教育。非常推荐这件托儿中心。已经分享给许多朋友。
中心的管理从我大女儿时(7年前)到现在还是那么棒。
老师和员工特别有爱心。谢谢,辛苦了!
谢谢老师们辛苦的教育。谢谢您们! All the best to you!
K2
We are grateful to all the teachers and staff of MacPherson Sheng Hong Childcare in nuturing and taking care of our children.
Well done for having seen through the pre-school years of my 3 kids. Special thanks to Ms Jennifer for all the help rendered.
Thank you for such a wonderful place. A very warm and family-like school for students.
Thank you to all the teachers and assistants who have helped to provide a conducive learning environment for children's learning.
Thank you!
My children enjoy their school very much. Thanks for all the teachers' love and care. They are learning in a very pleasant environment and I believe it has set a very strong foundation in their early age learning!
Thank you to all the teachers and assistants who have helped to provide a conducive learning environment for children's learning.
Well done, teachers! We appreciate your hard work.
My three boys have all attended your school and they have since progressed well in their Primary school. Many thanks to the management and the teachers and everyone for taking good care of them during their time with you. Keep up the excellent work!!!
Keep it up, teachers, Ms. Grace and Wenping Laoshi. Good job!
Continue the good job!
The centre provides Wushu activities.
All the staff are really friendly. They know each child well. I really appreciate.
The school has taught my kids to be independent.
Consistent teachers that do not keep changing.
I like the school environment, not 100% air-conditioned, thus children are not confined to aircon the whole day.
Teachers are very caring and always update parents on progress.
The centre puts in effort to renovate the place to make it better.
Has good service and helpful.
The school let parents know how many outings are expected throughout the year, so parents can decide how many outings their child need to attend.
I like the teaching and learning environment.
The school has taught my kids to be independent.
The school has caring teachers and very good personnel. I like it that the place is big and spacious, a lot of room for children to run around.
The school has made good progress and improvement.
中心的出游学习活动频繁,小朋友很喜欢。
校园大。孩子活动的地方够大。
陈老师会对家长们沟通孩子们的课堂上的作业。有群组沟通。很棒。加油!
谢谢中心的每位教职及工作人员对孩子的照顾。
中文老师表现很棒,又有爱心!
A letter of appreciation from our practicum student Ms Peiyi.
Letter of Appreciation from Ms PeiYi
Practicum student Ms PeiYi
Thank you teachers for nurturing Megan to be a more confident and cheerful child over the past year!
Merson has grown to be more responsible over the past one year. Thank you for the great job!
Parents of Megan & Merson Hua
First of all, I would like to take this opportunity to thank both teachers of Marcel's Nursery class teachers Ms Grace & Ai Hua Lao Shi. Both of them are very loving and patient which I think is the most important part for parents who send their children to school. Both of them did a great job in teaching and educating the children. They always take children's needs into their main concerns in terms of teaching and caring. I love how my child's classroom looks like. It's very lively and interesting. It enables the kids to learn with enthusiasm. I can see that my child enjoys going to school and happily shares what he has done everyday. I love the monthly newsletters too! It helps me to know more about Marcel's daily activity and it's very interesting.
Parents of Marcel Chen Boxi
Thank you for making differences in Syazwani's life! She has improved a lot, especially in her social and communication skills.
Parents of Saiyidatul Nurr Syazwani Nasha Binte Mohamed Yusri
To: Principal & Staffs of Sheng Hong Childcare,
Thank you for the email and video clip.
I do appreciate the heart and effort done up by the staffs and it was very nicely done.
Hereby wishing everybody good health and a very Happy Chinese New Year!
Parents of Randall Ng, Fraser
Annual Survey – Feedback Form (21 October 2016)
(Accolades & Words of Encouragement from the Parents)
Toddler & Playgroup Class
Sheng Hong has done a good job taking care of our kids. Teachers and aunties are dedicated and look into details of the wellbeing of the children.
Happy with the teachers, curriculum and school. Keep up the very good work!
Nursery
Thank you teachers for your loving care for the children
Certainly not easy to be an early childhood education. Thank you teachers & principal for trying your best educating my child.
Over the years, the centre has seen great improvement. Well done!
Good job! Continue to strive even better!
Ample open spaces for children to run. Teachers are very dedicated and very little turnover in teachers which is the best I've seen in preschools.
Thanks for the good work Teachers
I am glad that I chose MacPherson Sheng Hong Childcare as they have qualified and best teachers in guiding the children. Keep it up.
Great School! Great Childcare!
K1
In all 3 years my child is in MacPherson Sheng Hong Childcare Centre, all her 6 teachers have been caring, professional and gives us regular feedback. My child enjoys their lessons too.
Well Done! The school has done a very good job in keep our kids well entertained and interested in their school. They look forward to going to school everyday.
Greatly appreciate the hardwork of teachers to generate the monthly newsletters. The effect of the learning environment is so appealing and attractive for the children. Great job teachers!
K2
Excellent preschool environment. Both my children greatly benefitted.
The teachers attrition rate is low, allowing for greater teacher-child-parent bonding and relationship building. The teachers, admin staff, aunties and uncles and principal are genuinely caring and nurturing towards the children. The learning environment created is great. I am totally satisfied with the school and will highly recommend to my friends and relative. Keep up the excellent work!
Most of the teachers are caring towards the children. I believe that I have chosen the right child care centres for my kids. Well done to all the teachers and staff of MacPherson Sheng Hong Childcare Centre.
Thank you teachers for always being so caring and encouraging! I'm always very impressed with the teachers who creatively use recycled materials for craft work.
Dear Ms Wendy,
Parents of Pierson Png
您的宝贝思婷一年级的第一个成绩册要献给她K2的老师,张爱华老师。谢谢您!千言万语难以表达我对老师 的感激!
Ms. Ria, Yurie's 1st P1 result is her gift to you. Your baby has made it! A million thanks to your great care during her K1 and K2 years. Her P1 form teacher said that she has a strong foundation.
Parents of Yurie Ang Sze Ting & Yukie Ang Ching Xuan
Dear Ms Wendy,
Macpherson Sheng Hong Childcare Centre has been bringing up all my three children, the latest of whom Chong Jin Rong after Jin Xian and Kai Ying, and my wife and I feel really blessed to have sent our children there. A holy deeds done to our society, well done to your entire teaching team and their associates.
Wishing you and all the staff in MSHCC Merry Christmas and a prosperous New Year YR2014 ahead.
Yours Truly,
Parents of Kai Ying, Jin Xian and Jin Rong
Dear Ms Wendy,
We just had a wonderful graduation/year end concert 2013 at the RELC over the last week end and it is the right time for us to pen some thoughts and appreciations to your wonderful team at the center.
Kai Deng enrolled in the center a couple of years ago and we still can remembered how initially we had to "force" him to attend school, by various means, since he was apprehensive of the school and the environment.
However, things changed quickly within the next 2-3 weeks and he had changed to be a willing student, always eager and looked forward to go to the school in the morning. He always came back home, with kind words for the teachers, of how they took care of him and was always patient and willing to go extra miles to make him feel at home.
We would like to thank Zhang Ai Hua Lao Shi, Ms. Ria, Ms Su,and Ms Kavitha for their attentions and care for Kai Deng. Zhang Lao Shi, who was the Chinese language teacher from day one, took great pains and patience to guide Kai Deng over the past few years.
Your team of teachers, especially Zhang Lao Shi, deserve more than a pat on the shoulder.
Cheers!
Parent of Han Kai Deng
亲爱的赵老师:
那几天您没来学校,伊仁都提起您,看来蛮想念您。
虽然我不在班上,但从孩子所学和行为上,直到知道你们既严又爱,恩威并重。我很感谢您用爱心设计教材,用心教他们〈三字经〉和许多好歌、好诗,还有处事、自理的能力。
赵老师,谢谢您对伊仁的栽培和教导, 像您这样用心、用爱的教导,虽然只有一年,却是很难忘的,四岁能爱念《三字经》、爱学校生活,要谢谢您的付出,老师您真棒!
我感恩上天开路给我报名这间学校,我也是很不情愿离开这个好地方,但愿您健康、快乐、平安、明年继续带这群可爱的孩子们,我们都会想念您的。
赵老师,教师节快乐!我们爱您!
伊仁和妈妈
Dear Ms Hui Ling,
I am father to my son Jing Rong and my eldest daughter Kai Ying. Under your hands, their English have improved tremendously. I laud and commend on your effort and your teaching style.
I am writing this to show my deepest appreciation to what you have contributed to my children and our nation's education. Singapore needs someone like you to teach and groom our next generations.
Parent of Chong Jing Rong & Chong Jing Xian
谢谢张爱华老师的教导。
Parent of Tan Yi Ting
一个孩子很好的成长园地,老师也有很好的素质,和蔼可亲。
Parent of Tan Liang Xun Jayden
Good work and effort! Keep it up and really appreciate what you have done for us, parents, while we can concentrate on our work. After the initial stage, my child has no problem going to school. He looks forward and he will tell us what he has learnt in school. I recommended MSHCC to my friend and his son's attitude has changed and seems happier to go to school every day after he joined the centre.
Parent of Tan June Rong Brenton
The school has helped my child to be positive, helpful and kind towards others. Keep up the good effort!
Parent of Kento Teng Qian Zhi
Thank you to all the teachers of Macpherson Sheng Hong Childcare Centre. My child is very lucky to meet these excellent caregivers from Toddler to K2. The aunties and teachers have taken great care of Jovan. All the teachers who have taught him have put in lots of effort to help him grow. A special thanks to Zhao Lao Shi and Ms Weng for their extra effort to make a change in Jovan.
Parent of Kow Jovan
The centre provides a stable and safe learning environment for the children. The huge compound creates a school-like environment which will help the pre-schoolers well when they move into a primary school.
Parent of Chia Ping Haw Pacific
The centre provides opportunities for children to experience festive food such as Nasi Lemak and bandung drink; visit to primary school experience, etc. Thumbs up for that! It was also great to give children vegetable seeds as gift for children's day instead of sweets and candies. The staffs are helpful and caring especially Ms Jennifer, Aunty Esther and the teachers during her five years in the centre. The centre also provides value added programme like Gymnastics and Wushu for the children. This is your strength.
Ms Weng uses very interesting and hands-on material to teach Math. She is also very observant of children's behavior. Zhang Ai Hua Laoshi, her previous Chinese Teacher has also instilled in her a love for the Chinese Language.
Parent of Neo Xuan Teng Natalie
I realize that the turnover rate of teachers is very low. This is very important and will help the children in the learning during the 5 years stay in Macpherson Sheng Hong Childcare Centre. My children find going to school interesting, learning new things and meeting their friends.
Parent of Ong Kai Jie and Ong Yun Xi
It has exceeded my expectation. The regular newsletters are excellent. Zhao Laoshi and Ms Weng are wonderful teachers.
Parent of Sew Kai Feng
The school is spacious. It is very good for my child's development. It has good hygiene and it is clean. Keep it up!
Parent of Tan Jia Qi Elly
Good Job! Keep it up. It will benefit a lot of children.
Parent of Toh Shiya
Thanks teachers for being very good to my dear son, Chenxu. He is eager to go to the childcare as he likes to learn new things and also to chat with his good friends in the childcare centre. The centre also provides children with a lot of beneficial and useful material.
Parent of Liu Chenxu
I would like to thank the Chinese Teachers who have taught Ryan and Lucas for their patience and guidance. My sons have shown more interest towards learning Chinese and also improvement on the subject.
Parent of Ryan Teo Swee Yio & Lucas Teo Yu Yang
Nivedha enjoys going to the childcare as she likes to learn more new things from her teachers. Thank you Shou Laoshi and Ms Farhanah for taking care of my daughter and teaching her good skills. Well done!
Parent of Ramachandran Nivedha
The school is always neat and clean. Staffs in the school are helpful and friendly.
Parent of Aiden Ho Jia Ju
The staffs and teachers are very passionate at carrying out their work of guiding the children. Appreciate it!
Parent of Damien Koh Jun Kai
Teachers at Macpherson Sheng Hong Childcare are more creative and caring than the teachers I have met at other childcare centre. Lezanne looks forward to school after the weekend is over. She will share her daily activities at school with us during mealtimes. You have done a great job in taking care of my child. Thank you and keep up the great work!
Parent of Lezanne Lee Shing Ern
Thank you, teachers and aunties. I fully trust you in providing quality care for my children.
Parent of Chua Jia Min
This school has a group of well-learned and talented teachers and principal. They are also responsible in all aspects. They keep the parents well informed. Cherie will talk about what happened in school excitedly and what she has learned. I am satisfied with the centre's overall performance and both my children Cherise and Triss are doing well in the centre.
Parent of Cherise Chow Qi Rui & Triss Chow Qi En
Lucas for sure has a great childhood partly because of Macpherson Sheng Hong Childcare Centre. He is eager to go to school and love to hang out with the teachers. Ms Farhanah and Shou Laoshi are both very good. Rock on!
Parent of Aden Lucas Tan
We really appreciate the efforts made by the teachers to make the learning experience in school a meaningful and valuable one. Yurie really enjoys going to school and has improved her social and academic capabilities over the years.
Parent of Yurie Ang Sze Ting
I seldom visit the school. When I do, I am always pleasantly surprise that the childcare assistants remembered me, an infrequent guest. Many thanks to Uncle Artique, Uncle Wang and the childcare assistants. I like the Chinese and English Newsletters too. They gave me ideas on what goes on in the centre, who are my son Clement's friends, and the activities conducted. Good Job! Please keep it up! I also like the 3D Art programme that Clement is attending.
Parent of Clement Lim Zhi Yuan
The e-newsletters are really very useful in understanding what Janelle is learning and doing in school, and I will read it together with her. The teachers are very committed!
Parent of Janelle Kwek Ning Xuan
Macpherson Sheng Hong Childcare centre is a good childcare centre with various facilities that can enhance the total development of a child. Not just physically but mentally and socially too.
Parent of Chong Jin Rong
Kudos to the Principal, teachers and staffs for your dedication and professional attitude. You have indeed developed many future leaders!
Parent of Chan Yi Fei Amber
Ever since my daughter, Kalista is enrolled in the childcare, I have been very happy. I am thankful to Ms Jaslyn, Zhu Laoshi and not forgetting Zhong Lao Shi for their time in educating my girl. Thank you to all of you including Principal Ms Wendy for your well arrangement of staffs. Five Stars Service! Kalista will always want to go to school unless she is not feeling well. She always says she loves her teachers and friends.
Parent of Tang Li Ting Kalista
Thank you for providing such good support and taking good care of the children while we parents are working.
Parent of Dylan Kok Jun Hao
Macpherson Sheng Hong Childcare Centre is a very good childcare in providing good teaching and learning environment. The centre is hygienic and the cleaning standard is very good. Please keep it up! Well done!
Parent of Ng Li Ting Angela
We are very satisfied about the environment which you have created and the health related things which you've been following. We are happy about the newsletters also.
Parent of Chinnaiyan Vijayakumar Pavithran
The teachers are friendly to the children when they go to school early in the morning. This really encourages Isaac in wanting to go to school. Thank you!
Parent of Isaac Pun Yung Le
We appreciate Ms Sofia's help and effort in teaching Jotham. We can see Jotham's attachment to her. He is also attached to the other teachers & helpers too. He would come back and tell us about them.
Parent of Low Jyun Dak Jotham
The staffs are helpful. Ms Jennifer, Wang Laoshi and Aunty Esther will go the extra mile to help us parents. Macpherson Sheng Hong Childcare Centre also provides good programme for the children to enjoy and appreciate special festival like Chinese New Year and National Day. The childcare centre makes special effort to choose meaningful gifts for the children during children's day like vegetable seeds for planting.
Parent of Ryan Neo Heng Ray
I am happy with the school teachers and staff. I look forward to let my child Rayyan continuing his studies and learning journey there. My son has learnt to be independent and is able to understand all that he has been taught. He is also keen in learning new things.
Parent of Muhammad Rayyan Dino Faisal Linsing Abdullah
Thank you for making school so enjoyable for my girl. There is never a day Charlotte will say that she does not want to go to school. She loves school!
Parent of Poon Keling Charlotte
When Qi En comes back from school, he always talks about what he does in school. He will talk about his friend's birthday party that was held in the centre.
Parent of Leow Qi En
Good job! Keep it up! I really appreciate all the efforts and patience. I would definitely recommend MSHCC to my friends. I have never worried much about my child while at work because I know my child is in good hands. Clarabelle looks forward to going to school and she will talk about her friends occasionally.
Parent of Clarabelle Tan Shu Jun
Most of the teachers are generally devoted and patient. I especially appreciate their passion towards teaching the younger ones. Many thanks.
Parent of Sean Yap Zong Xun
Thank you Ms Hui Ling & Chen Laoshi. You have done a fantastic job of nurturing Jerome. He loves you and his classmates. Thank you for trying and keeping me engaged in the developmental progress of my child too. Keep up the good work!
Parent of Jerome Zhou Jierong
Ms Kavitha, Ms Charlene, Yanhua Laoshi & Zhong Laoshi from the Toddler class are excellent. Shee Suan will come home and repeat songs that she has learnt. This clearly indicates that she enjoys school very much. I am very happy to send Shee Suan to your school. Well done Teachers!
Parent of Tey Shee Suan
I love the monthly newsletters from all the 3 teachers Ms Kavitha, Yanhua Laoshi and Zhong Laoshi. It gave me as a parent 3 different perspective of my child's activities in the centre. Keep it up!
Parent of Lim Yue Cong
Our baby, Jing Yu will automatically request to go to school every morning. I often hear other children's mothers praising Zhong Laoshi for her ability to pacify my child. We want to express our gratitude.
Parent of Ong Jing Yu
钟磊玲老师,
谢谢你一直以来对吴国瑞的照顾,国瑞现在也很依赖您!
每天早上去学校,第一个都是在寻找您身影,见到您都要给您个抱抱,我们也可以感觉出来国瑞对您的爱,请多给他抱抱,这对他来讲是很重要的! 国瑞现在很喜欢去学校,感觉出来他的一点一滴的成长。他是个倔强的宝宝,很多时候很有自己的想法,有的时候也会默默的反抗!因为只有他一个,所以不太了解是否所有的宝宝都是这样子?请您多多关注他心理上面的成长,有什么事情请及时与我们沟通!
谢谢
国瑞妈妈
朱梅珍老师∶
谢谢您细心的教导丽庭能读出又准又棒的古诗。母亲节当天,姑姑叫丽庭唱歌给婆婆,她只背古诗给婆婆听,我们都好高兴。
《感恩,谢谢!邓太太上》
Dear Ms. Jaslyn,
Thanks for your patience for the 1st semester with Kalista. Yes, I fully agree, she is still not independent enough. Will try my best to train her at home to be better. Let's work together closely to help my little girl. Your help is greatly appreciated. Thanks.
Mrs Tang Kam Heng (Parent of Tang Li Ting Kalista)
张爱华老师:近几个月我注意到宇充的华文学得非常好,谢谢你的教导。
Ms Ng Tjin – Hwai@Kris Ra'ia (Parent of Kaif Yu-Chong Md Taufiq)
A Note of Thanks to Ms Su & Ms Ria, teachers of K1 class:
"I've really enjoyed reading the February 2012 newsletter! I think the kids really had a lot of fun with learning through play! 🙂 I'm sure that my daughter, Janelle, will continue to enjoy her stay with the school throughout her kindergarten years 🙂

Looking forward to the next exciting newsletter!"
Ms Zel Tan Puay Ying (Parent of Janelle Kwek)
Donald's听写… I'm really glad that Fu Lao Shi (Chinese teacher Ms Poh) gave Donald a very good foundation of his Hanyu Pinyin during his K2 last year. This let me able to coach him without much effort… 🙂 Really appreciate the good work done!
Ms Cindy Ng Tze Tee (Parent of Ronald and Donald Ong)
Dear Wendy and all the teachers and staff at Sheng Hong Childcare Centre,
In the coming Chinese New Year 2012, we wish you and all the teachers at Sheng Hong Childcare Centre a happy and prosperous Chinese New Year 2012 with lots of abundance and joy.
Teaching is a holy job, we wish to take this opportunity to express our utmost gratitude unreservedly to all the teachers there for teaching and grooming up our children so tenderly well all these years, esp. to the teachers who have taught our daughter Chong Kai Ying and my son Chong Jin Xian before.
Thank you very much for your great contribution.
Mr Chong Kok Kean & Ms Khek Lay Say (Parents of Jin Xian & Kai Ying)
"Congratulations to you and all the teachers for the magnificent effort put in for the year end concert last evening! It was amazing to see how the children can speak so well in their different languages. The beautiful and colourful costumes and their dances really bring joy and delight to the audience. All of you who consciously dressed in elegance brought even more charisma to the evening. Not to forget the aunites and uncles who helped the children along the way."
Ms Eliza Chan (parent of Alfie & Ashley Chow)
"Thank you for the electronic newsletter. Really impressed by the effort done. It is so much of a different from the hard copies I used to receive. I didn't expect the original is so nicely done up!"
Ms Lena Ang (parent of Aiden Ho)
"觉得你对你的学生有非常深入地了解。绚婷很幸运能有你那么好的老师照顾她。绚婷每次说张(爱华)老师是他最好的老师,像一个妈妈那样照顾他们全班。谢谢!"
绚婷妈妈
一天一天看着钰煊从学校回家的变化,能歌善舞,其实作为家长的我,心里明白这一切都是老师的无微不至的关怀和教导。谢谢钟老师及班级老师。
Ms Er Ai Gern (parent of Lim Yu Xuan)

we need help Volunteer
The efforts and time contributed by one person can make a significant difference in the lives of another person.
Volunteer Now