Centre Profile
MacPherson Sheng Hong Childcare Centre is established by The Society of Sheng Hong Welfare Services (SSHWS) from the Lorong Koo Chye Sheng Hong Temple Association on 11 July 2005. The objective of SSHWS is to provide assistance, welfare & relief, financial or otherwise to ALL people, without discrimination as to race, language, creed or religion, to promote Education, to foster friendship & community cohesion.
Housed in a 3-storey building with a uniquely spacious compound of 1732 sqm in the heart of , the childcare aims to promote a spirit of learning in partnership with parents towards the development of a holistic child with strong moral values and a passion for life-long learning.
Our centre's current 24-month licence tenure was extended to 36-months with effect from January 2019. The criteria is that we have achieved the 3 consecutive 24-month licence. This is an indicator that we are providing quality care and development to our children in the Centre. The new licensing took effect with the implementation of the Early Childhood Development Centres Act and Regulations from 2 January 2019.
MacPherson Sheng Hong Childcare Centre has attained SPARK certification in September 2017. The Singapore Pre-school Accreditation Framework (SPARK) is a quality assurance framework introduced by the Ministry of Education to raise the quality of pre-schools in Singapore in November 2010. The framework supports pre-school leaders in their efforts to enhance their teaching, learning, administration and management processes.
We have also been awarded by Health Promotion Board (HPB) the Platinum Certificate and Healthy Meals in Pre-schools Programme (HMPP) Certification in April 2019. The "Healthy Pre-School – Platinum Tier" accreditation is to distinguish pre-schools which have made efforts that are beyond the basic health requirements for their students and staff. It is a simple yet powerful recognition of such pre-schools in their commitment to the healthy development of young children.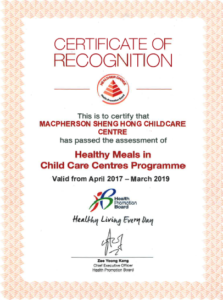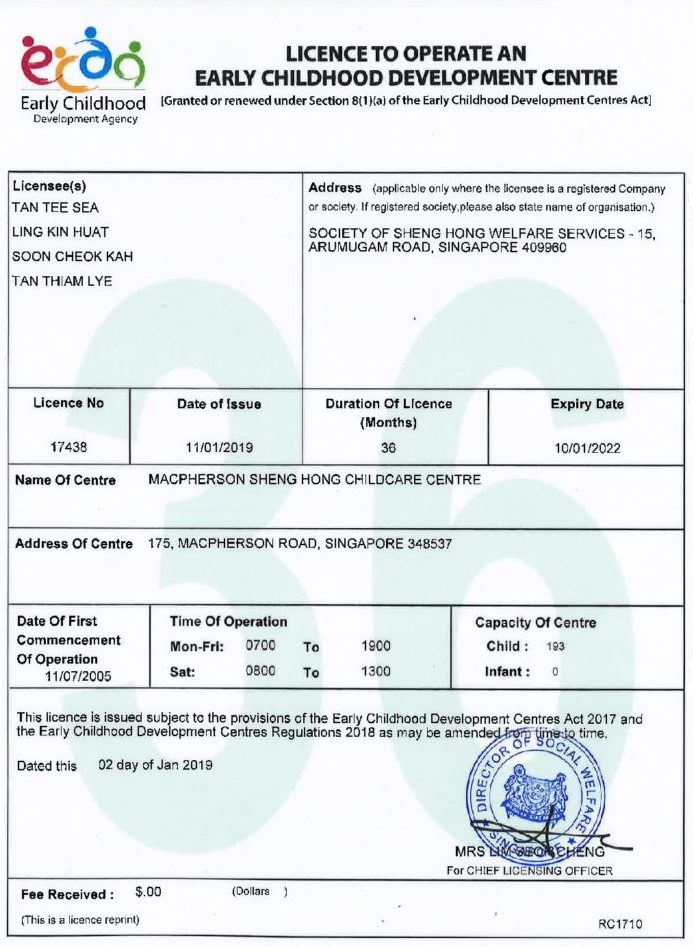 Our Address: 175 MacPherson Road, Singapore 348537
Our Telephone: +65 6858 5862
Our Fax: +65 6858 2809
Our Email:childcare@shenghong.org.sg
Our Capacity: 193 children
Our Opening Hours:
Monday to Friday: 7:00am to 7:00pm
Saturday: 8:00 am to 1:00 pm

we need help Volunteer
The efforts and time contributed by one person can make a significant difference in the lives of another person.
Volunteer Now