Bereavement Counselling 哀伤辅导
Over The Rainbow 彩虹再现
Coping with the pain from bereavement or grief can be challenging, and if not processed properly can
negatively affect physical and mental health (e.g. insomnia, loss of appetite and etc).
We are particularly keen to support the elderly, their family members and friends during their loss and grief. For further inquiries, please feel free to contact us at 6538 9877.
当我们失去生命中挚爱的人,我们自然感到悲痛万分;有时甚至会影响我们的健康,让人食而无味,夜不成寐,精神也无法集中等等。
这项服务特别针对任何罹患末期病症,或遭遇亲友过世的重大失落的成年人,尤其是乐龄人士和他们的亲友而设。若想知道更多详情,请拨打 6538 9877 询问。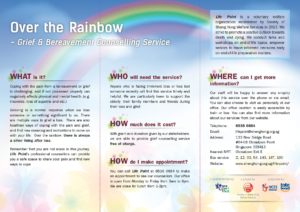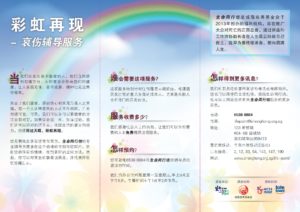 we need help Volunteer
The efforts and time contributed by one person can make a significant difference in the lives of another person.
Volunteer Now