Deputyship Application 申请做代理人
Deputyship Application 申请做代理人
What is a deputy?
A deputy is a court-appointed individual who is granted specific powers by the Court to make decisions for the benefit and welfare of someone who has lost mental capacity.

Apart from taking care of that person's personal needs and financial affairs, the deputy is also required to submit an annual report to the Office of Public Guardian to explain what decisions he/she had made for that person and how he/she had used that person's monies for the benefit of that person

For individuals who have lost their mental capacity and have no suitable next-of-kin to handle their affairs, the court is able to appoint a Professional Deputy to take on this role.
At Life Point, we are able to provide assistance and guidance to those who wish to apply to be a deputy for their next-of-kin. Please call us at 6513 0700 / 6538 9877 for more information.
什么是代理人?
代理人是被法庭指定代替已失去心智能力的人士作决定的人。

除了代替已失去心智能力的亲人办与个人福利和财务方面有关的事宜,代理人每年必须成交报告给公共监护人办公室(OPG)来说明他们代替办了什么样的事。

如果您身边没有可靠或能信任的人,法庭会把代替您作决定的责任委任给专业代理人。
我们提供协助申请做代理人的服务。想查询更多详情,请拨打 6513 0700 / 6538 9877。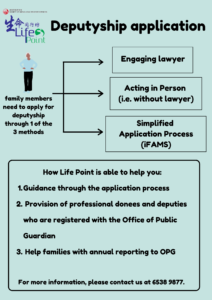 Relevant resources:
https://www.judiciary.gov.sg/family/deputyship
https://www.enablingguide.sg/services-details/society-of-sheng-hong-welfare-services—life-point

we need help Volunteer
The efforts and time contributed by one person can make a significant difference in the lives of another person.
Volunteer Now