Embracing Life Series 拥抱人生系列
Embracing Life Series 拥抱人生系列
Join us as a member to enjoy activities hosted by us free-of-charge or at a low cost. You will also receive newsletters for regular updates and information on activities.
Come down to our centre to register as a member! Simply bring along your NRIC (for verification purposes only) and cash for payment of membership fees.
作为会员,您将享有免费或以优惠价格参加各种活动的福利。您也将会定期收到会讯以及活动讯息。
今天就报名成为我们的会员吧!请携带您的身份证(仅用于验证目的)和报名费(现金)。
First-year fee 第一年收费:$20*
Renewal fee 更新收费:$10*
** Financial assistance will be subject to assessment 经济援助需要经过评估
Members' activities include (not exhaustive) 会员活动包括: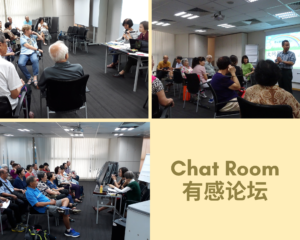 Call us at 6538 9877 for more information. 想查询更多详情,请拨打6538 9877。

we need help Volunteer
The efforts and time contributed by one person can make a significant difference in the lives of another person.
Volunteer Now