Public Talk Schedule
Download Talk Schedule for Apr-Jun 2020 here
Please take note that following the latest COVID-19 advisory, April talk dates are cancelled.
请留意,根据新冠病毒的最新指引,4月的讲座一律取消。
*Elderly: 50 years old and above 年长者:50岁及以上
Total Costs: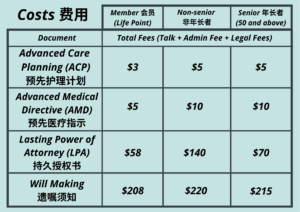 For enquiry or registration of talks, please call 6538 9877.
想查询更多相亲或报名,请拨打6538 9877。

we need help Volunteer
The efforts and time contributed by one person can make a significant difference in the lives of another person.
Volunteer Now