LP @ Chinatown Talk Schedule
Download Talk Schedule for July – Sept 2021 here
All talk dates are subjected to further changes according to the government advisory on COVID-19.
请留意,所有的讲座日期将会根据新冠病毒的最新指引。
Please note that the below talks are all Zoom talks. You may call 65389877 to register or you may find the registration links here. 请留意,以下所有的讲座是线上的。您可拨打65389877报名或点击这链接报名。
*Seniors: 50 years old and above 年长者:50岁及以上
Total Costs: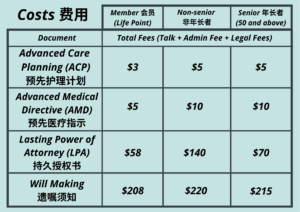 *Please note that Will Making pricing is subjected to GST 请留意,以上订立遗嘱的费用不包括消费税

we need help Volunteer
The efforts and time contributed by one person can make a significant difference in the lives of another person.
Volunteer Now