Professional Donee & Deputy Scheme 专业被授权人及专业代理人计划
Professional Donee 专业被授权人
If you have no next-of-kin (NOK) and worry that one day there might be a trusted person to take care your personal welfare such as care arrangement, medical treatment and, property and affairs, such as CPF payout, banking matters, you can find a trained professional to help you; you can contact Life Point to enquire about our professional donee services.
As everyone's situation is unique, we will arrange an appointment with you to explain our services, fee charges and to see how best we can assist you.
如果您没有可信赖的亲属,并担心将来没有可靠的人能为您的个人福利做决定-例如居所安排,医药照顾以及公积金和银行等钱财管理-您想要委托一位专业人士,请联络生命同行坊询问有关"专业被授权人"服务。
由于情况因人而异,一般会与先您预约面谈,说明有关服务范围及收费,再商讨可以如何协助您。
Professional Deputies 专业代理人
If your family member has lost his/her mental capacity and has not made a Lasting Power of Attorney, and you are unable to help him/her manage personal welfare and property affairs matters due to one reason or another, you may want to appoint a professional deputy to help your family member. You can contact us to find out more about our services and fee charges.
We will provide information and support, and guide you through the application process
如果您的亲属已经失去了心智能力,由于当事人没有签过持久授权书,导致您无法代替他/她做一切个人福利和钱财的决定,您或需要委任一位"专业代理人"来协助这位失智的亲属。您可以联系我们以获取更多有关服务与收费的资讯。
我们有专人为您提供资讯和必要的支持,并在整个申请过程中一路协助您。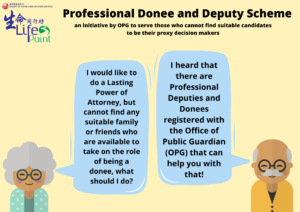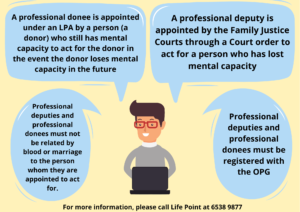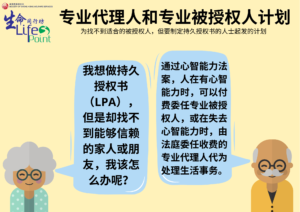 we need help Volunteer
The efforts and time contributed by one person can make a significant difference in the lives of another person.
Volunteer Now